Powder is one of the most difficult parts of the whole process, choosing one that is. There are literally thousands of different kinds of powders in different colors, textures, and gloss levels. Then add in the fact that you can mix powders(Beginners, don't do this yet!) and do multiple coatings to achieve even more looks. It is baffling, I spend a huge amount of time selecting colors. If you would like to know some reputable websites to purchase powder from, check out my
recommendations
.
Lets get in to the different types of powders, below refers to how or what the powder is actually made out of:
1.
EPOXY
- These types of powders are very impact resistant and are used when corrosion prevention and adhesion is needed the most. But, they can not be exposed to sunlight as they are not uv stable. They are best left indoors, under the car, or on factory equipment. In the sun, the epoxy coatings develop a whitish haze and eventually look like crap.
2.
POLYESTER
(Urethane and TGIC)- These are the most common powders, chances are, your powder will be polyester or a blend of polyester. They hold up great outdoors in the elements and have good all-around characteristics.
3.
ACRYLIC
- This is mainly used for clear coats. An acrylic clear powder coat will be very smooth and more clear than a clearcoat made of a different type of powder. Also has very good chemical resistance.
4.
FLUOROPOLYMER
- These have the best outdoor characteristics of all the powders, mainly used for outdoor industrial coatings, most of the powders you will be able to order in small amounts will not be a fluoropolymer.
Types of powders from a visual standpoint:
-Regular Solid Colors (covers all of the regular colors in all of their different gloss levels)
-Chromes(the most reflective types of powder, but the name can be misleading, while it shares the same characteristics as Chrome of being silver and very shiny, it will not actually look like real chrome plating. To me, this is not a bad thing, if you want the chrome look, either polish it(if your on a budget) or have it chromed. The chrome powder coat still has a beautiful and unique look. The downside to chrome powders is they all have to be clear coated. They are made up of actual aluminum flakes to give them that metallic shine. After they are cured, they will oxidize very fast leaving a terrible looking finish similar to bare aluminum if left unprotected. Clear coating the chrome prevents the oxidation from happening. Clear coating adds an extra step and it takes away the amazing look of the chrome powder coat but it is a necessary evil. The reason this happens is the clear top coat affects the way the light shines off of the chrome, instead of seeing the chrome reflection, you are seeing the clear reflection. Acrylic clear coat is best for minimizing this effect but no clear is invisible.
Chrome can also be used as a base coat for other colors, especially candy colors.
Here is an example of Black Chrome on a set of brake lines done by me:
- Candy colors: These come in many colors and they get their effect from being translucent.To achieve the candy look, the part must have either a chrome or silver powder coat base coat or have an actual chrome plated or polished finish .
Here is a wheel coated with a candy powder coat called Shocker Yellow from Prismatic Powders. The base coat used was Super Chrome Powder Coat:
Here is an example of a Black wrinkle powder coat on a valve cover:
- Clears: Clear powder coat can provide a 2nd layer of protection to your powder coated pieces. You can also enhance the look using a clear powder coat. It gives some colors more depth, especially gloss black when top-coating it with a high gloss clear. Clears are available in different gloss levels and some have added metallic flakes, this allows you to make very unique colors that wouldn't normally be available. For example, black chrome looks great as is when it is glossy, but adding a flat or semi-gloss clear gives it a more subtle modern look.
An example of black chrome and semi-gloss: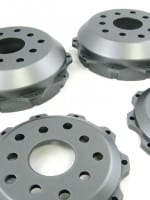 This company has an amazing color sample wall, you can see almost every powder coat color that exists on their metal bottles, check out the pictures on their site.